The Budart Project
Get to know emerging and established meditative artists
Nikolai Makarov, an world renowned Russian born artist and the founder of the Museum of Silence in Berlin, believes that the "time has come for fine art to achieve one of its oldest objectives: drawing beholders into contemplation and thus bringing them into contact with the spiritual aspects of the self". Read more
Sherab "Shey" Khandro, an eminent American artist, was ordained as a Buddhist nun in the Tibetan tradition for 15 years. In her art, Sherab utilizes the intent of her vow as a Bodhisattva, a vow taken by Buddhists to return again and again until all suffering has come to an end: each stroke of her brush holds a prayer of compassion. Read more
Aaron Taylor Kuffner, an American born conceptual artist, a creator of Gamelatron, provides unique conceptual tools that further the evolution of consciousness through the experience of beauty and the sublime.
Pema Rinzin, a contemporary Tibetan painter, introduces Tibetan art to the general public with the hope of continuing this rare and unique form of visual Tibetan culture and imparting its timeless ideas and values in a modern form.
Ana Maria Velasco, a Colombian born contemporary painter, creates art that reveals a glimpse into another realm, leading the viewers through fantastic tales that invite them to weave their own story into the images they see. Read more
Liana Moon's art expresses the spirit and insights of TIbetan Buddhism, which she has come to understand deeply after years of serious meditation practice and travelling to the sacred sites of the planet. Read more
Cansu Bulgu creates large scale intuitive sand drawings as well as installation pieces and inspired series on dye-infused ink metal panels. Her intuitive drawing meditation is a fascinating journey of discovery and appreciation for the creative dance, the Great Mystery of Life.
Hector Marcel, an artist behind the Wheel of Life installation, a public speaker and social entrepreneur, creates modern metaphors for the awakening wisdoms of the Eastern philosophy. Read more
Denis Kucherov is a leader of the Samhey band and one of the finest Indian traditional music performers in Eastern Europe. Denis performs meditative music, which immerses his audience in the atmosphere of ancient India, with its joyful abandon and mystical ecstasy. Read more
Inna Ivanina, a Ukrainian born contemporary painter, creates naive abstract paintings and vivid landscapes reflecting her experience of Tibetan meditation practice.
Katherine Patiño Miranda creates performative experiences, where people are encourage to reflect on what it means to be kind and generous, even in simple daily activities as talking or eating.
Kimyon Huggins creates contemporary spiritual art replete with adornments and allusions to the past masters, traditions and ceremonial elements, which connects the viewer to the present time and also to the rich history of these spiritual icons.
Impressionist in style, Ekaterina Aksenova's paintings are flooded with warm sunlight, which engulfs the whole scenery and reaches beyond the surface of the picture illuminating the viewer.
Anna Zimorodok combines the pictorial style of the Renaissance masters and a lacquer painting technique. Anna's images seem to radiate an otherworldly aura of affection and gentle strength. Read more
Artworks of Ayhan Yavuz, with their rich tapestry of colour, bring to life the vivid symbolism inspired by insights and philosophy of Theravada Buddhism. His goal as a painter is to create art that regardless of the darkness we experience will still give hope, peace, and light.
Niphan Suwannakas creates intricate contemporary art that attempts to reconnect ancient spiritual ideals and the realities of modern-day life. His major series of paintings to be exhibited at Budart Festival is entitled "Everyone Can Be Enlightened".
In her art, Ola Hikari conveys the idea and the feeling of Metta, which in Pali means loving-kindness towards all beings. She draws her inspiration from a decade long meditation practice in major centers of yoga and Buddhism. Read more
Oksana Tuganova is a color intuitionist: she does not paint what she sees, but instead tries to convey through color her intuitive understanding of the essence of things. Oksana practices yoga and ThetaHealing.
Anna Shabyrova explores the intersection of art, science, and meditation. Her artworks are meant to show the fundamental unity of macrocosm and microcosm, of the the material and the ideal.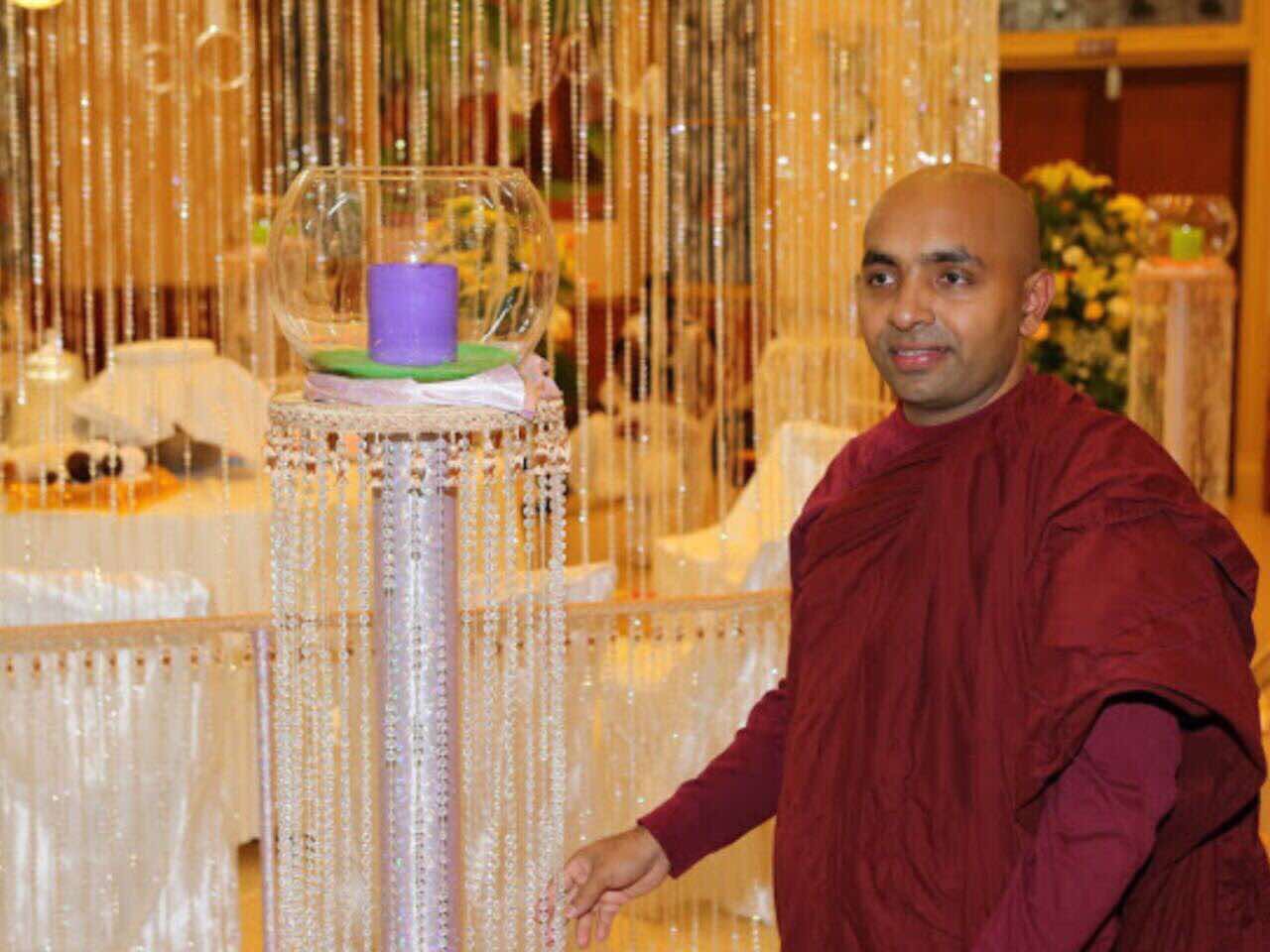 Venerale Kirinde Saddhanusari Thero is a fully ordained monk, who shares his understanding and appreciation of Buddhism through momentous art installations made of wood, paper, beads, colored threads, etc.
Garbis Bartanian's art envelopes the viewer in the atmosphere of Vipassana meditation, giving him the taste of one of the most joyful, fulfilling and transformative spiritual practices.
Lark Pilinsky, a long time meditator, brings subconscious reflections of nature into her art, inviting viewers to experience its healing powers. The feeling of being cradled in the arms of the Earth, protected, yet free, overcomes the senses.
Paintings by Ekaterina Logvinova bear the imprint of power, purity, and grandeur of the sacred sites she visited. She practices yoga, Buddhist meditations and likes to go into solitude, which brings her peace and helps her create shining, lucid images on canvas.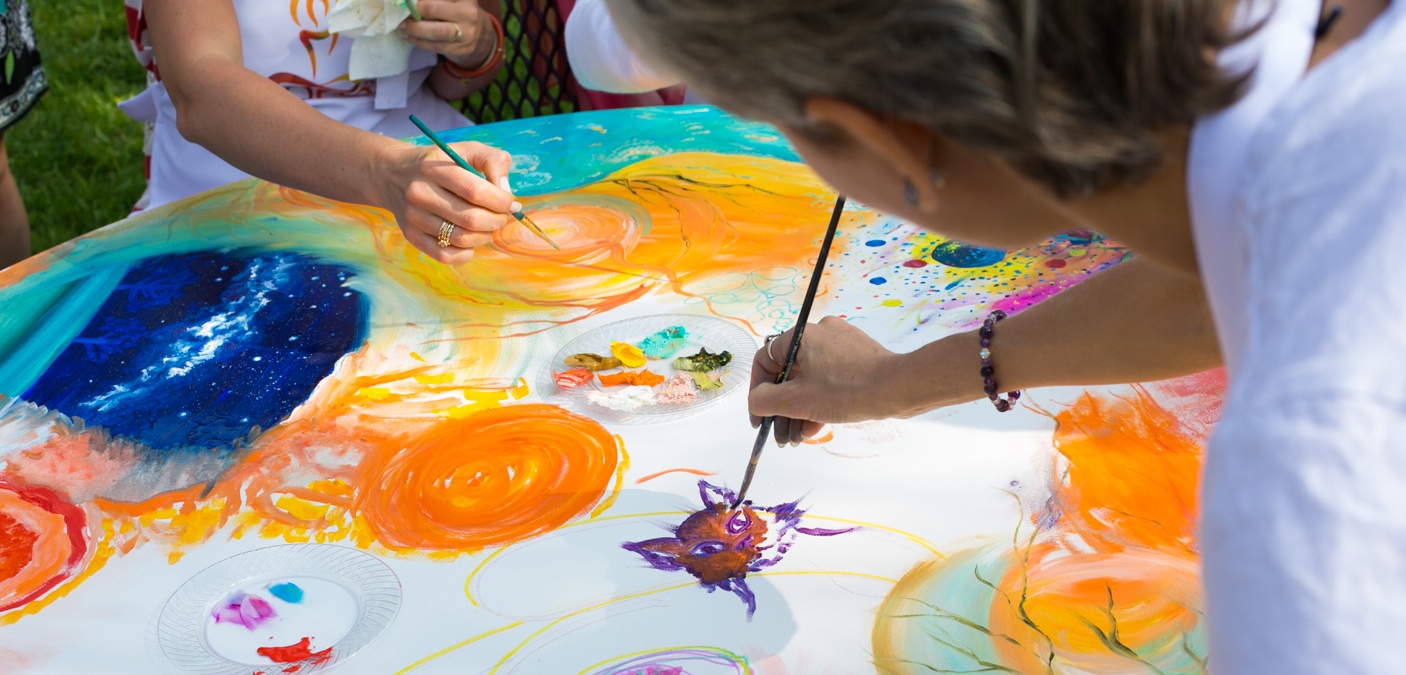 Izabel Raa transforms her paintings into easy gateways to meditation. Her long-time practice of Buddhism and other spiritual traditions helps her create artworks that transport the viewer into a completely different emotional space - that of peace, joy, and inspiration.
Evgeniya Budyak creates delightfully jubilant and melodious paintings, which are inspired by her Hatha-yoga and meditation practice. Evgeniya volunteers at different charitable events, helps orphans and people with disabilities.
Kseniya Messing's paintings have a unique capacity to harmonize space and create an atmosphere of tranquility and joyfulness. Kseniya practices yoga, meditation and conducts her own group meditation sessions.